PA Powder Coating




Pennsylvania custom powder coating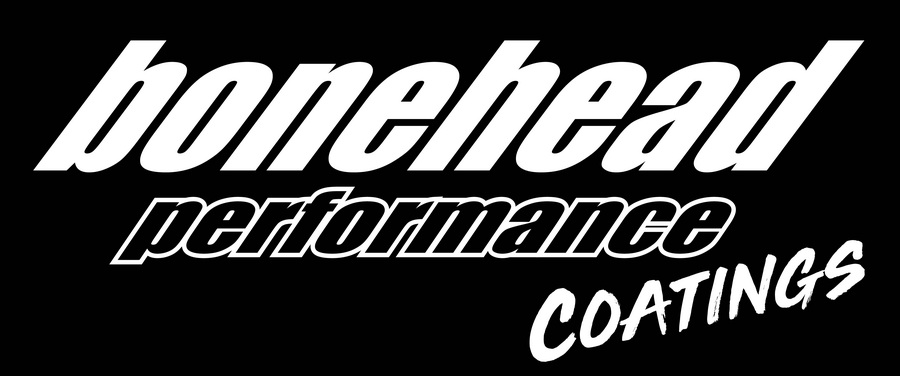 1741 Loretta Ave
Feasterville-Trevose, PA 19053
Powder Coating Line: 215-674-8206
Email:  sales@boneheadperformance.com
Web site: www.boneheadperformance.com

Bonehead Performance Coatings
Powder Coating, Ceramic Coating & Abrasive Blasting Specialists
Now offering Vapor Blasting!
********************

Erie Powder Coating Technology
Pennsylvania's Powder Coating Pioneers!
Powder Coaters emphasizing high quality work…always!
227 Hathaway Street East
Girard, PA 16417
Phone: (814) 774-8238
Fax: (814) 774-9372
Email:  Chuck@EriePowderCoaters.com
Web site: www.powdercoater.net
Serving the tri-state area and beyond since 1969 with emphasis on high quality custom coating work.
A color ready inventory reduces custom powder coating turnaround time.
PA powder coaters


Sorted by city name
American Precision Powder Coating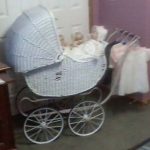 Durable coatings skillfully applied.
1296 Airport Road
Aliquippa, PA 15001
Phone: (724) 683-1760
King Coatings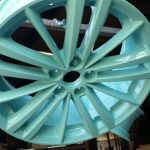 Powder coating car wheels and parts.
929 N 9th Street
Allentown, PA 18102
Phone: (610) 435-1212
Powder House of Daytona, LLC
Custom Powder Coating Specialists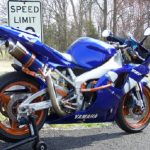 "Powder House of Daytona is the place you want to take anything metal that needs powder coated. I've searched for years for a quality powder coat shop in the area, and I've found it here. Their work is very professional, they pay attention to detail, and their prices are inline for the quality of results that their shop offers."
521 North Route 934
Annville, PA 17003
Phone: (717) 867-1322
Gill Powder Coating, Inc.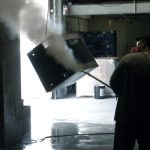 More than 35 years we have been one of the Philadelphia area's most successful powder coating companies. Second generation ownership has grown our Bensalem PA based business into one of the East Coast's leading powder coating solution providers for companies that need their products powder coated to their exact standards.
1384 Byberry Road
Bensalem, PA 19020
Phone: (215) 639-5486
Protex Offroad and Powder Coating
Powder coating services Pennsylvania
200 North Furnace Street
Birdboro, PA 19508
Phone: (610) 575-0420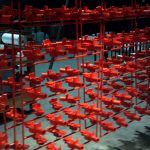 Applied Powder & Coatings, Inc.
Large runs or just a few parts, we will work with you to apply the best powder coating for your application and get your coating cost down.
942 Valley Brook Rd.
Boothwyn, PA 19061
Phone: 610-361-1889
Premier Applied Coatings Inc.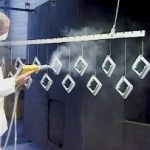 For over 22 years we have been the Industry leader in Custom Finishing with our 25,000 Ultra Modern Green Technology facility located in Eastern PA.
326 South Franklin Street
Boyertown, PA 19512
Phone: (610) 367-2635
Coating Concepts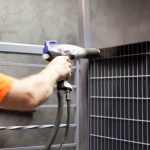 A full service powder coating facility conveniently located in Carlisle, PA, offering a full range of metal coating services including powder coating, sand blasting and decorative coatings.
405 North East Street
Carlisle, PA 17013-2822
Phone: (717) 240-0010
Lane Enterprises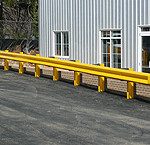 Custom powder coating for all shapes and sizes, we are  a leader in industrial powder coating applications for over 30 years.
1244 Claremont Road
Carlisle, PA 17105
Phone: (717) 761-8175
GRS Coating Services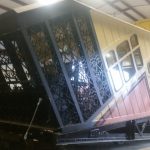 All of our work is done in-house, with ownership directly involved at every step. We  work 1 on 1 with you to meet your tightest deadlines and most stringent specifications, while providing unparalleled quality and service.
32 Tyler Avenue
Charleroi, PA 15022
Phone: (724) 333-7452
Prism Powder Coating Services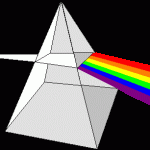 Near Pittsburg, PA, Prism offers a wide range of colors and specialty finishes in addition to special coatings such as marine coatings, friction coatings and ceramic/metallic exhaust coatings.
1232 McKee Street
Crescent, PA 15046
Phone: (724) 457-2836
Toll free: -800-627-4410
Ignite Fabrication, Inc.
Our line of products are Made In The USA. Shop our online store! We deliver worldwide.
1033 Reeves Street
Dunmore, PA 18512
Phone: (570) 344-2309
Xtreme Powder Coating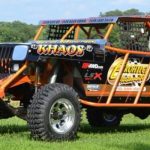 1550 Lehigh Drive, Bldg. # 9
Easton, PA 18042
Phone: (484) 661-9893
C & K Powder Coating, Inc.
Blasting and powder coating up to 20 feet in a one stop shop
549 Lemon Drop Rd
Ebensburg, PA 15931-6013
Phone: (814) 472-5727
C & C Powder Coating
Pennsylvania powder coating
1140 S State St #10
Ephrata, PA 17522
Phone/Fax: (717) 738-1240
First Line Coatings, Inc.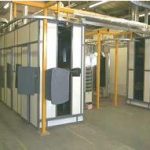 A premiere powder coater located in Erie, Pennsylvania. Partners Gary and Brian with their team of professionals provide state of the art powder coating services. Capabilities include multi-stage pretreatment, precision masking for critical parts, overyhead conveyor system and custom color matching is available
901 West 12th St., Ste. 204
Erie, PA 16501
Toll free: 877-550-9900
Phone: (814) 452-0046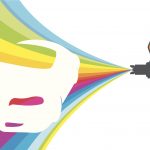 Durable Powder Coaters
PA powder coating and sandblasting.
5912 Washington Avenue
Export, PA 15632
Phone: (724) 733-5190
Advanced Finishing USA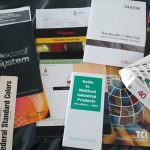 Powder coating, Dye Sublimation coatings and wet painting. We're the finishing touch you have been looking for.
7401 Klier Drive
Fairview, PA 16415
Phone: (814) 474-5200
Pittsburgh Powder Coating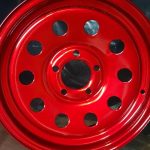 A family owned and operated business who takes pride in our work. Each piece is treated with exceptional care and meticulously prepped, treated, and coated.
3526 Cliff Street Unit D
Finleyville PA 15332
Pro Chassie Racing
349 Centertow Road
Grove City, PA 16127
Phone: (814) 786-9764
Fax: (814) 781-0110
JNZ Finishing LLC
2700 Bergey Road, Bldg F Rear
Hatifield, PA 19440
Phone: (215) 853-2019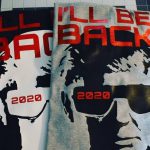 Worthi_Creations
Custom Vinyl, Powder Coating, Sandblasting, Pennsylvania
Prospect Street
Hawley, PA 19428
Phone: (570) 229-2112
Stars Powder Coating
Hereford PA custom powder coating.
40 Star Road
Hereford, PA 18056
Phone: (215) 679-4930
J&M Custom Powder Coating LLC
Powder coating service in the Chester County, Pennsylvania
623 Todd Road
Honey Brook, PA 19344
Phone: (610) 273-1340
AMF Allegheny Metal Finishing
Serving the tri-state area since 1932 offering full service painting and coating solutions.
8150 Steubenville Pike
Imperial, PA 15126
Phone: (724) 695-3233
Nicholas Powder Coating & Blasting
Lebanon PA custom powder coating
215 Cumberland Street
Lebanon, PA 17042
Phone: (717) 274-3678
Friel Metal Resurfacing
Family operated with 50 combined years of experience in the thermal spray industry.
2721 New Falls Road
Levittown, PA 19056
Phone: (215)  785-6029
Keystone Koating 

For 30 years, Keystone Koating has researched, developed and applied powder coating technology.
295 Wood Corner Road, #K
Lititz, PA 17543
Phone: (717) 738-2148
Great Dane Powder Coating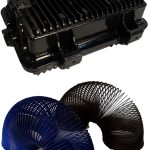 A state of the art powder coating facility located near Latrobe, Pennsylvania. Established in 1991, we have many years of experience that allows us to accommodate almost any powder coating need.
434 Latrobe Derry Rd
Loyalhanna, PA 15661-9713
Phone: (412) 537-9709
Hoffman Powder Coating
With over ten years of experience, we are your complete service shop for all things powder coating. Located in southeastern Pennsylvania, we offer services from media blasting to powder coating and beyond.
221 Benfeld Road
Macungie, PA 18062
Phone: (610) 845-1422
Extreme Powder Coating
333 Callowhill Street
Mapleton Depot, PA 17052
Phone: (814) 542-4369
Advanced Coating Technology


Robotic application in a humidity and temperature controlled environment.
327 W Allen Street
Mechanicsburg, PA 17055
Phone: (717) 795-9936
Fax: (717) 795-8213
Powder Works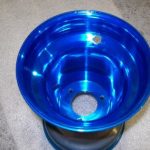 Don't Paint That Metal…Powder Coat It!  
6258 B Baseshore Road
Mechanicsburg, PA 17050
Phone: (717) 766-1099
B&B Painting, Powder Coating & Sandblasting

We can powder coat virtually any metal object, and can accommodate a wide variety of sizes with our 6ft. walk in oven. We have a huge selection of colors in stock, and can get just about any color you might need.
489 Baker Road
Millerton, PA 16936
Phone: (570) 537-6880
Coatingtech

Powder coating specialists in PA. In addition to small and medium sized parts, our 10′ X 10′ X 10′ oven allows us to coat the largest panels, frames and weldments. Parts requiring precision masking are welcome.   
102B Park Drive
Montgomeryville, PA 18936
Phone: (267) 468-7500
Cost Effective Coatings, Inc.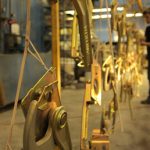 Committed to quality output, cutting-edge technology and cost-effective service for all our customers. 
12069 E. Main Street
North East, PA 16428
Phone: (814) 725-8637
Aurora International Coatings Ltd. Inc.
11 Grant Avenue
Pittsburgh, PA 15223
Phone: (412) 782-2984
GT Fabrication, Inc.
100 Benedict Street
Pittston, PA 18640
Phone: (570) 883-0775
American Metal Finishers, Inc.
Pottstown PA powder coating services.
1346 Farmington Avenue
Pottstown, PA 19464
Phone: (610) 323-1394
ZRZ Powder Coating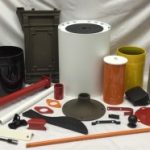 We provide industrial and custom powder coating, high temperature ceramic coating, and abrasive blasting. Specializing in small batches with quick turnaround times.
420 Station Road
Quakertown, PA 18951
Phone: (267) 227-3393
Pocono Powder Coating LLC
2737 Jackson Road
Reeders, PA 18360
Phone: (570) 369-8717
Spray Tech, Inc.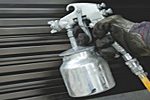 An industrial powder coating and assembly facility in Jamestown, NY, serving OEM's, military, industrial, architectural, and residential customers.
15 Bryan Drive
Richboro, PA 18954-2027
Phone: (215) 953-7388
Allegheny Coatings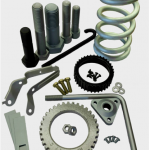 EcoGuard™ Geomet® Dacromet® SingleCoat♣ Xylan® Zinc Electroplating and more applications.
224 River Road
Ridgway, PA 15853
Phone: (814) 772-3850
Fusion Coatings, Inc.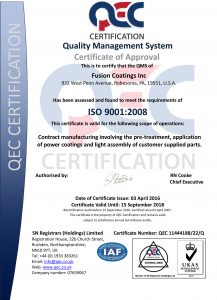 A premier custom metal finishing house.
932 West Penn Avenue
Robersonia, PA 19551
Phone: (610) 693-5886
Custom Powder Coating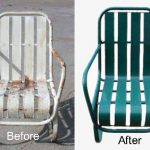 A large selection of coatings for the automobile and motorcycle enthusiast, two high volume production lines plus in house sandblasting.
415 Walnut Street
Scranton, PA 18509
Phone: (570) 575-0997
Absolute Powder Coating, LLC


Powder Perfect Finish Every Time! We are a quality custom powder coating shop located in north central Pennsylvania.
202 Grotzinger Road
St. Marys, PA 15857
Phone: (814) 781-1160
Toll free: 888-495-1222 
Ingham's Powder Coating
From truck wheels to motorcycle frames, lawn furniture to antiques—if it's metal, we can refinish it! Second location in Denver, PA.
1860 N. Reading Road
Stevens, PA 17538
Phone: (717) 336-8473
Custom Metal Coating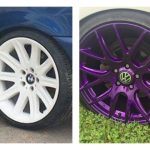 Powder Coating • Hi-Temp Ceramic Coating • Sandblasting
301 Court Street
Sunbury, PA 17801
Phone: (570) 988-2226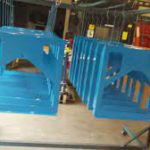 EMC Powder Coating, LLC
Pennsylvania custom powder coating.
1060 Revenue Drive
Telford, PA 18969
Ph0ne : (267) 347-5100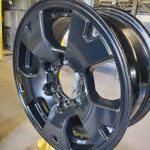 Innovative Finishers, Inc.
871 Tech Drive
Telford, PA 18969
Phone: (267) 203-8106
Fax: (267) 203-8207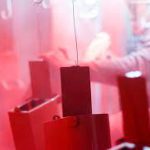 Brooks Powder Coating, Inc.
High quality powder coating finishes and complete abrasive blasting services for commercial, manufacturing, and individual consumers.
895 Fernhill Road
West Chester , PA 19380
Phone: (610) 431-6330
Xtreme Custom Coatings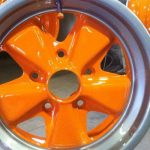 Provides a quality powder coating finish for industrial equipment, sports cars, four wheelers, classic cars, sport bikes, custom choppers, and dirt bikes, just to name a few.
1550 Lehigh Dr Bldg. #8
West Easton, PA 18042
Phone: (484) 661-9693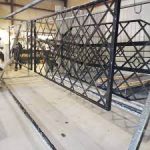 Horizon Powder Coating
Full service metal finishing process including sandblasting, pre-treatment, powder coating, curing and wrapping.
2020 Strouse Road
Williamsport, PA 17701
Phone: (570-494-0391
Surtech Industries, Inc.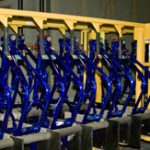 Industrial metal finishing for central PA with over 30 years of experience in commercial and industrial metal finishing and powder coating.
915 Borom Road
York, PA 17402
Phone: (717) 767-6808
Toll free: 800-745-8176
PA custom powder coating