Massachusetts Powder Coating
MA Custom Powder Coaters
See special package rates for Featured Coater listings in the Northeast States
Prism Powder Coating 


12 Kendrick Rd #9
Wareham, MA 02571
Phone – 508-295-5601
Fax – 508-295-0403
Web Site: – www.prismpowderusa.com

Prism Powder Coating has been producing top-quality powder coated finishes for 25 years for the retail customer as well as the commercial industrial market.

We are especially known for our marine customers such as the US Coast Guard, National Marine Fisheries and numerous privately owned marine research equipment manufacturers who need coatings that will withstand the harsh marine environment of the northeast.

If we can satisfy these demanding customers, we guarantee we can satisfy you.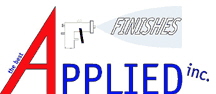 TB Applied Finishes
78 Regional Drive
Concord, NH 03301
Toll free: 800-467-1220
Phone: (603) 226-1221
Fax: (603) 226-1221
Email: tbappliedfinishes@yahoo.com
Web site: www.tbappliedfinishes.com
The Best Applied Finishes, Inc.
Since 1970, Finishing the Job
MA powder coaters




Sorted By City
PowderPro
226 Leonard Street
Acushnet, MA 02743
Phone: (508) 889-3722
G&S Custom Coatings
25 Columbia Street (Rt. 8)
Adams, MA 01220
Phone: (413) 743-7373
Fax: (413) 749-0124
Powder Shield Technologies, Inc.
173 Howland Avenue
Adams, MA 01220
Phone: (413) 743-0022
Fax: (413) 743-7771
SMI Powder Coating
40 Water Street
Amesbury, MA 01913
Phone: (978) 388-1601
Fax: (978) 388-9587
Pike Powder Coating
318 Lincoln Street
Boston, MA 02134
Phone: (617) 779-7311
Central Mass Powder Coating
32 Greeley Street
Clinton, MA 01510
Phone: (978) 365-1700
Fax: (978) 365-1800
New England Soda Blast, Inc.
323 Princeton Road
Fitchburg, MA 01453
Phone: (978) 833-0246
Unlimited Technical Coatings, LLC
115 Hale Street
Haverhill, MA 01830
Phone: (978) 521-2779
Fax: (978) 521-4264
R.R. LeDuc Corporation
100 Bobala Road
Holyoke, MA 01040
Phone: (413) 536-4329
Fax: (413) 533-8063
Westside Finishing Co., Inc.
15 Samosett St.
Holyoke, MA 01040
Phone: (413) 533-4909
Fax: (413) 533-4641
Patriot Coating, Inc.
17 Kane Industrial Drive
Hudson, MA 01749
Phone: (978) 567-9006
Fax: (978) 567-9226
New Bedford Coatings, LLC
766 Acushnet Avenue
New Bedford, MA 02740-7919
Phone: (508) 509-6620
Fax: (508) 990-7919
D&T Powder Coating
171 Mattakeesett Street (Rt.14)
Pembroke, MA 02359
Phone: (781) 294-9222
Fax: (781) 294-9220
Long Beach Custom Fabrication
4 Bay Colony Drive
Plymouth, MA 02360
Phone: (774) 454-4701
Feeley's Co., Inc.
232 Water Street
Quincy, MA 02169
Phone: (617) 773-1711
Fax: (617) 479-0492
S&D Powder Coating
107 Sycamore Avenue
South Attleboro, MA 02703
Phone: (508) 399-6501
Diamond Custom Coatings
3 Progress Avenue
Westfield, MA 01085-1687
Phone: (413) 562-2734
Fax: (413) 562-4215
Advanced Finishing, Inc.
55 Woodrock Road, Weymouth Indpk.
Weymouth, MA 02189
Phone: (781) 337-6285
Fax: (781) 337-3242
HTC Racing
10 Califer Road
Whitman, MA 02382
Phone: (781) 447-6652
Fax: (781) 447-8453
Coating Application Technologies, Inc
219B New Boston Street
Woburn, MA 01801
Phone: (781) 491-0699
Fax: (781) 491-0670
Abrasive Blasting & Coating
41 C Sutton Lane
Worcester, MA 01603
Phone: (508) 752-2937
Fax: (508) 755-4184
Toll Free: (800) 230-2937
Granite State Powder Coating
478 Clement Hill Road
Contoocook, NH 03229
Phone: (603) 746-5042
Fax: (603) 746-2988
MA Custom Powder Coaters