IL Powder Coating
Illinois Custom Powder Coating
3005 West Franklin Boulevard
Chicago, IL 60612-1094
Phone:773.533.0033
Email: quotes@powdercoatchicago.com
Website:  www.powdercoatchicago.com
S&B has only the finest industrial powder coatings applied with expert craftsmanship for more than 35 years!
We work with industrial and retail clients and provide assembly services, packaging, pickup and delivery.
ISO 9001-2008 Certified

Superior Industrial Coating, Inc.
Committed to Quality and Service
superior
Superior Industrial Coating
Toll Free: 800-472-3774
Phone: (262) 634-5521
Fax: (262) 634-4203
Email: vince@siccorp.com
Website: www.siccorp.com
Superior Solutions To All Your Coating Needs
You don't need to pay extra for your high quality coatings.
SIC founded in 1957, with our many years of experience in the finishing industry we can serve you with a high quality workmanship: Powder coatings, E-Coating, Wet Coatings, Electrostatic Coatings, Vibe and Blasting, as well as the value added services that will give you an edge in the market.
SIC serves the Electronic, Automotive, Agriculture and Plastic industries in all types of Plastics and Metals; it includes Magnesium, Zinc, Aluminum and Steel. 

Micron Metal Finishing
8585 S 77th Avenue
Bridgeview, IL 60455
Phone: (708) 599-0055
Fax: (708) 599-8784
Email: bwatt@micronmetalfinishing.com
Web site: www.micronmetalfinishing.com
Micron Metal Finishing is a full service large volume custom powder coating job shop serving Chicago, surrounding suburbs, Illinois, Wisconsin, Indiana, Michigan and the Midwest region.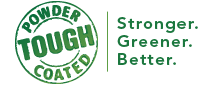 Powder Coating Solutions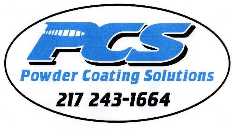 554 Sandusky
Jacksonville, IL 62650
Phone: 217-243-1664
Fax: 217-243-1922
Email: powdercoats@hotmail.com
Website:  powdercoatingsolutionsillinois.com

Restoration and Refinishing of Anything Metal.

Progressive Coating
900 South Cicero Avenue
Chicago, IL 60644
Phone: (773) 261-8900
fax: (773) 261-8902
Email: stephen@progressive-coating.com
Web site: www.progressive-coating.com
Progressive Coating has a 30,000 sq. ft. facility with two conveyor lines. 
Line 1: Fluidized Bed application (Nylon, PVC, PE) & Vinyl Plastisol. 
Line 2: Electrostatic Powder application. 
All jobs from prototype to high volume. 
ISO 9001:2000 certified
IL Powder Coaters
Sorted by city name
The Finsihing Company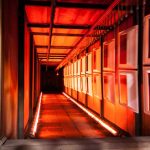 Industrial Finishing for Manufacturing, a privately owned custom coating company operating since 1904. A leader in alternative green processing technologies, our innovative plant spans more than 75,000 square feet and operates four different coating platforms.
136 Commercial Avenue
Addison, IL 60101
Phone: (630) 559-0808
Fax: (630) 559-0811
Tru-Tone Powder Coatings, Inc.
Full-service ISO 9001:2000 certified e-coat and powder coating company that has provided superior quality and service to the Midwestern United States since 1974.
300 W Fay Ave
Addison, IL 60101-5008
Phone: (630) 543-5520
CountyLine Coatings
21938 N. 400th St. #B
Annapolis, IL 62413
Phone: (618) 569-3603
Altorfer Power Systems
6315 W. Fauber Road
Bartonville, IL 61607
Phone: (309) 697-1234
Fax: (309) 282-7546
American Industrial Powder Coating


"Where pride finishes your product." We powder coat sizes up to 30′ long x 8′ high
in our 32,000 sq. ft. facility.
5310 W. 66th Street
Bedford Park, IL 60638
Phone: (708) 728-1300
Hocking Powder Coating
PO Box 166
Bellmont, IL 62811
Phone: (618) 263-2868
Fax: (618) 263-2868
Superior Coating Corporation
6860 Indy Drive
Belvidere, IL 61008
Phone: (815) 544-3340
Fax: (815) 544-5205
B.L. Downey Company, Inc.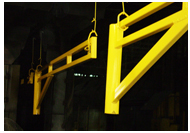 Our exclusive Trinity Finish has been in use for over 30 years.
2125 Gardner Road
Broadview, IL 60153
Phone: (708) 345-8000
Fax: (708) 345-8017
Powder Coating Specialists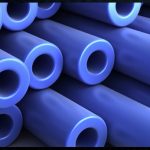 Full service custom powder coating shop located  just 13 miles west of Chicago. Our shop is 4,500 square feet offering powder coating, sandblasting, welding, milling, light machining and disassembly and reassembly.
9436 West 47th Street
Brookfield, IL 6051
Phone: (708) 387-8000
Central Motorwerks
15W308 N. Frontage Road
Burr Ridge, IL 60527
Phone: (708) 369-9656
Midwest Powdercoating
1418 West 127th Street
Calumet Park, IL 60827
Phone: (708) 389-8177
J&J Performance Powder Coating
Wide variety of powder coating services including high volume powder coating and single custom powder coated parts.
410 E. Washington Street
Carlock, IL 61715
Phone: (309) 376-4340
U.S. Surgitech, Inc.
327 Village Drive
Carol Stream, IL 60188
Toll free: 800-970-4877
Phone: (630) 456-4114
Coating Methods Inc.
853 Commerce Parkway
Carpentersville, IL 60110
Phone: (847) 428-8800
Creative Dust Powdercoating
Custom powder coating Illinois
Champaign, IL 61802
Phone: (217) 407-4366
Ace Industries
3433 W. 48th Place
Chicago, IL 60632
Phone: (773)927-2711
Orion Industries Ltd.
Chicago powder coating. Serving the needs of engineers and manufacturers for more than 50 years
5 170 Northwest Highway
Chicago, IL 60630
Phone: (773) 282-9100
Crusader Coatings & Arms
402 W 4th Avenue
Coal Valley, IL 61240
Phone: (309) 737-7669
CPC Powder Coating & Hydro Imaging
Complete Powder Coating.  Powder coating, sand blasting, Hydro-Dipping, firearms.
900 Brian Drive, Units C & D
Crest Hill, IL 60403
Phone: (815) 260-3124
Twisted Edge Powder Coating
6801 Locust Road
Delavan, IL 61734
Phone: (309) 244-7178
KVF Quad Corporation
808 13th Street
P.O. Box 795
East Moline, IL 61244
Phone: (309) 755-1101
Palapa Coatings, Inc.
330 Corporate Drive
Elgin, IL 60123
Phone: (847) 628-6360
Acme Finishing, Co.
1595 Oakton St.
Elk Grove, IL 60007
Phone: (847) 640-7890
Fax: (847) 640-0298
Commercial Finishes Co. Ltd.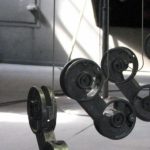 Let Us Finish What Your Started
540 Lively Blvd.
Elk Grove, IL 60007
Phone: (847)981-9222
Magnetic Inspection Laboratory
1401 Greenleaf Ave.
Elk Grove, IL 60007
Phone: (847) 437-4488
MSC Pre Finish Metals, Inc.
2200 E. Pratt Blvd.
Elk Grove, IL 60007
Phone: (847) 718-8229
Design & Manufacturing, Inc.
302 W Division
Fisher, IL 61843
Phone: (217) 897-1172
Pro-Tek Powder Coatings
IL powder coating & media blasting.


315 Airport Dr.
Joliet, IL. 60431
Phone: (815) 773-2280
Dave's Powder Coating
4136 Guinea Road
Metropolis, IL 62960
Phone: (618) 543-9250
The Powder House
608 S Main
Ohio, IL 61349
Phone: (815) 376-2628
Fresh Start Custom Coatings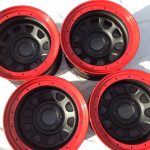 "Why buy new when you can REFINISH what you already have?"Powder coating and  media blasting.
655 S Vermont
Palatine, IL 60067
Phone: (847) 485-7779
Like New Parts
1509 Fenley Avenue
Pekin, IL 61554
Phone: (309) 696-6445
Metokote Corporation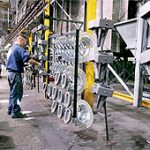 Offering electrocoating and powder coating services.
5750 Star Route 251
Peru, IL 61354
Toll free: (877) 786-9670
J&C Premier Concepts
1506 N High Street
Port Byron, IL 61275
Phone: (309) 523-2344
Industrial Finishing Services
2517 Schneidman Drive
Quincy, IL 62301
Phone: (217) 224-4374
Powder Coat Plus
4126 Koch's Lane
Quincy, IL 62305
Phone:(217) 228-0081
The Powder Pro
4703 Carr Street
Rolling Meadows, IL 60008
Phone: (847) 561-4361
Americana Powder Finishing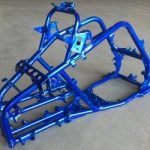 "Quality finishes from a company that will accept nothing less!" Powder coating and media blasting.
#2 Industrial Dr
Salem, IL 62881
Toll free: 888-442-2933
A & J Finishers, Inc.
621 Lunt Avenue
Schaumburg, IL 60193
Phone: (847) 352-5408
Coating Specialties
Your one-stop shop for powder coating, pistons and header coatings.
3311 Holeman Avenue
South Chicago Heights, IL 60411
Phone: (708) 754-3311
Imperial Blasting Technologies
160 East 168th Street
South Holland, IL 60473
Phone: (708) 596-6420
Dawn Powder Coating
370 North Cross
P.O. Box 497
Sycamore, IL 60178
Phone: (800) 554-0007
Performance Powder Coating
1204 Deer Street, Ste, D
Yorkville, IL 60560
Phone: (630) 553-0220
J & J Powder Coating
2805 Ebenezer Ave.
Zion, IL 60099
Phone: (847) 731-3131
Illinois Powder Coating